Jane Kohne loves her little sister Annika and her dog Alli. In fact, "Alli' was her very first word. She enjoys playing at her grandparents' farm and adores Peppa Pig. However six-year-old Jane's words have all but gone. Her ability to walk is being stolen by Sanfilippo and she is currently transitioning to a wheelchair. Sanfilippo has already taken so much from Jane but her family live in hope.
The Kohne family shares their heartbreaking journey to diagnosis and their hopes for funding future research in honour of Jane.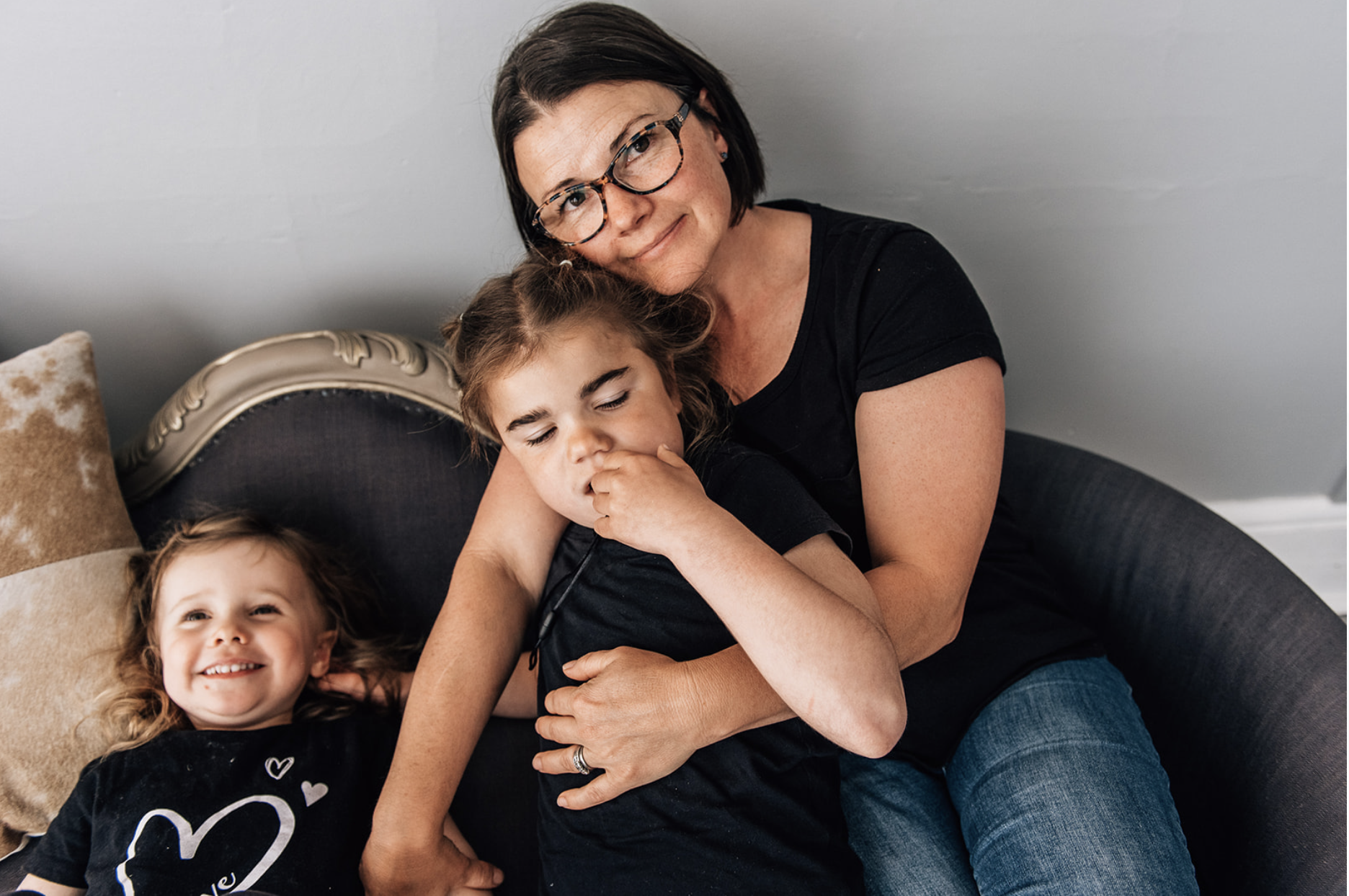 We live in a small community called Tallangatta on the Victorian side of Albury-Wodonga. My husband Andrew was a fly-in and fly-out worker in the mines in WA. I used to work as an educator at the hospital for dental students and nurses at the Wodonga campus.
When we got Jane's diagnosis, my workplace couldn't reduce my hours, so I started a gardening business. It's called Greenstar Gardens, originally just doing weeding for older ladies. It's ideal for our family and means we can work around Jane's care. Andy now works alongside me in the business.
Jane was born early at 37 weeks. She spent 10 days in the special care nursery with respiratory problems. She would snore really loudly even as a newborn – louder than her father! She was an unhappy baby and had constant ear infections.
My instincts told me something was unusual with Jane as early as 18 months of age. I kept saying to the maternal health nurse every visit, "something's not right". When I look back at her My First Health Record, there are questions against all her milestones. I was asking questions about her development from day dot.
When she began talking, Jane couldn't retain any more than 10 words at a time. She'd learn new words but would forget others. I knew this was not right. After already having had three kids, I knew she was different.
My children, from previous relationships, are Chris, aged 23, Jarrod, 20 and Katie, 16.
Jane had her adenoids and tonsils taken out and grommets put in when she was 18 months at Albury Hospital and had a respiratory arrest during surgery. Her airways collapsed. We knew something was wrong when we heard them call a 'Code Blue'. They told us she had been particularly hard to resuscitate.
After the operation, we learned she had a hearing impairment. That made sense but that 'something else' still worried me. I kept pushing and pushing but it wasn't until she was nearly three that we got her Sanfilippo diagnosis.
After her operation we saw a paediatrician where I shared my concerns about her delayed speech and inability to do tasks. I recall doing a questionnaire and one question was: "Can your child dress themselves independently?" She couldn't dress herself and she wouldn't put her arms up like most kids do.
He suggested doing some tests and said: "Get this urine test done but whenever. There's no hurry – get it done next time you're in town." We thought there was no urgency so the pathology report sat there for six months.
Then the urine test had to be done twice and we later found out it had to go to Adelaide. We were told something had been flagged from her test and would have to go to the Royal Children's Hospital in Melbourne. You don't get an appointment with the RCH Metabolic team, unless it's something serious!
I noticed he'd written on the form the words "GAGs" and "facial dysmorphism" which I of course Googled. I was horrified by what I read – the words "terminal disease", "no treatment" and "no cure" jumped out and I saw photos of children who looked just like my Jane.
I took my sister, who lived in Melbourne, to the appointment with me. She was there when Andy and I got the news. It was of course one of the worst days of my life... it was on par with losing Jane's little brother Harry.
I fell pregnant with Harry quickly after having Jane. The day after Jane's 1st birthday I attended an appointment and at 36 weeks was told there was no heartbeat.
Sadly, I still had to give birth to Harry, then have a funeral. I have no recollection of this time and the weeks that followed. It's just been wiped from my memory. My mum came to look after me. I needed help showering, dressing and even eating. I was in a very dark place. It was 1.5 years later that we found out that Jane had Sanfilippo Syndrome.
I think things happen for a reason and Harry was sent to me to make me strong and resilient – to prepare me for Jane.
I often wonder if Harry also had Sanfilippo. I would go over and over it in my mind. I thought that if we'd had an autopsy for him then we could have potentially known much earlier about Jane… but I guess it's one of those things we will never know.
At first, "I thought why us, why our little girl" but now I believe Jane was delivered to the right family. She was meant to come into our hands and into our lives – as hard as that is!
Sadly, Andy's nephew had a stroke while in utero and has had a lifetime of struggles. Adam's 18 now but will never be able to live independently. That was the only experience of disability we'd had in our family.
My mum used to say, how blessed she was that all her grandchildren were born healthy. She died before we knew about Jane. She passed away a year after we lost Harry. It was very sudden. Mum had cancer but didn't tell anyone.
It was coming up to Harry's anniversary and because I had struggled so much, she did not want to worry me. I only realised she was sick once she was hospitalised. She passed away just four weeks later. I'm lucky I had her as a role model. I wouldn't have been the strong person I am today, without my mum.
Andy's parents, John and Lyn live close by. Lyn used to care for Jane three days a week. When my mum died, I started sending Jane to day care one day a week. At that time, we had been trying desperately to conceive again. Not long after Jane's diagnosis we discovered I was pregnant.
We didn't tell anyone we were pregnant. We live in a small town and we didn't want to be judged if things did not go as planned. We had to wait until the baby was 18 weeks before we could test for Sanfilippo.
It was very hard to connect with the baby inside of me and it was an incredibly stressful time. Fortunately, Annika did not have Sanfilippo and we welcomed another baby girl into the family.
Shortly after diagnosis, we heard about an ERT (Enzyme Replacement Therapy) clinical trial for Sanfilippo in Melbourne.
Jane was a good candidate and we started the selection process and did the baseline study. This included MRIs, lots of appointments and driving the ten-hour round trip to Melbourne and back.
Everything changed after an appointment with a neuro-surgeon where we discussed the port (a small medical device) which would be implanted under the scalp and into which the ERT would be delivered once a week.
We were told there was a risk of meningitis and stroke. For us, there seemed to be more cons than pros.
I didn't want to spend 18 months participating in the trial at the expense of her perfect years. Hospital was such a distressing experience. We'd drive to Melbourne for appointments and once we got to the yellow sculptural pillars on the freeway, she knew we were going to the hospital, and would start screaming. I know she would have got used to it, but we also had another baby on the way by then and didn't want to relocate to Melbourne.
We thought these are going to be the best years of Jane's life and we have so much to give her – walking to kindy, bushwalking, going to the farm.
There was no guarantee that the trial would be successful or after the trial finished that we would have ongoing access to the ERT drug. In the end, we decided not to go ahead and did not continue with the trial.
We are so lucky to have had that opportunity. I realise other Sanfilippo parents would be horrified that we declined. People travel the world looking for these opportunities.
It was an excruciating decision and a heart-wrenching experience, and we kept going back and forth and batting our heads against a wall. At first, I second-guessed myself but now I think we made the right decision for our family.
We live in one of the most beautiful parts of Australia. Jane loves being outdoors, watching wildllife and looking towards the hills. She loves nature. She loves her dog and she loves her little sister.
Jane attends Belvoir Special School in Wodonga. The commute is long (it's nearly a 100km round trip). Jane doesn't go on the bus. We drive her there and do our gardening work while she's at school.
Jane is six now and has lost most of her words. She still says "mum" and occasionally "dad". Interestingly, it took years for her to call me mum. She'd call the dog "Alli" and Annika "baby" but she would never say mum. When she did finally call me mum, I marked it in my diary and called it "Mum-Mum" day. It's on 19th February.
Alli (her dog) was her first word. We got Alli six weeks before we had Jane. When Jane melts down, Alli is always right there beside her. She's the best dog in the world. She takes every hit and never bites.
Jane has hearing aids. She's completely deaf in the left ear and has limited hearing in the right ear. She requires constant supervision with her hearing aids as she will take them out and chew them.
The small bit of hearing she does have, means that she responds beautifully to music. Everything I've taught Jane, I've taught her through song. We used to make songs about getting dressed, brushing our hair etc.
Occasionally, she says a single word such as "Peppa" while watching Peppa Pig. We get so excited whenever she does this.
Jane's mobility is starting to decline. She has trouble walking some days and will drop to her knees. We're transitioning to a wheelchair to stop her from getting fatigued.
Jane's adjusted to school but communication is hard. Some of the kids are scared of her. They don't understand the hitting is just Jane trying to give them high-fives, and she sometimes steals their work. She's really quite cheeky.
She used to do a picture exchange and I also used to sign with her but she can no longer do this as her hands have curled and she doesn't have the dexterity in her fingers to move the Velcro tabs on the pictures.
Andy's parents are amazing and live nearby. Sadly, Lyn had to stop caring for Jane. She has been such a big part of Jane's life and Jane loves her. She would sign the word for "Grandma" but unfortunately Lyn could no longer physically care for her. Jane is so strong and these days it takes two people just to change her nappy.
My sister and her husband sold their house in Melbourne to be closer to help with Jane, and our family is close. We're lucky to have so much support. I have five siblings, Andy has two and they are all just a phone call away.
It's also a Godsend to have a Foundation to access and turn to when you're a newly-diagnosed family, for information and to hear about other families battling this disease. Just knowing that you're not alone means so much.
If in sharing our story, we can help one family in the future to get a diagnosis, then we are glad. We have to make the most out of our situation. Something good has to come out of this. Something good has to come out of something so bad.
Photography: Sara McFarlane (Documenting Motherhood)