And that's a wrap..........
Thanks for your love and support over the last 30 nights. 
Ted and I needed all of your moral, financial and physical support to get through. 
Let's continue to drive research for a world without Sanfilippo .
We can do it !!
What's going on here???
Arrived home from work today to find that Donna's having work done on the locks....... not sure what that means for my return to the house but she's told me not to worry - it's all sorted
Who left the light on?
It's been a real struggle to get to sleep over the last week or so. It's as if someone had left the light on but then it occurred to me..... the man in the moon had left the light on. Hopefully, as the 30 nights comes to a close, I'll get some good sleep. Wish me luck !!
Catching up on the news......
It's taken only 3 weeks of phone tag, but the paper delivery man has finally got it sorted and started delivering the paper to my tent so I can catch up on the news before heading out for the day. 
Old School camping tonight.................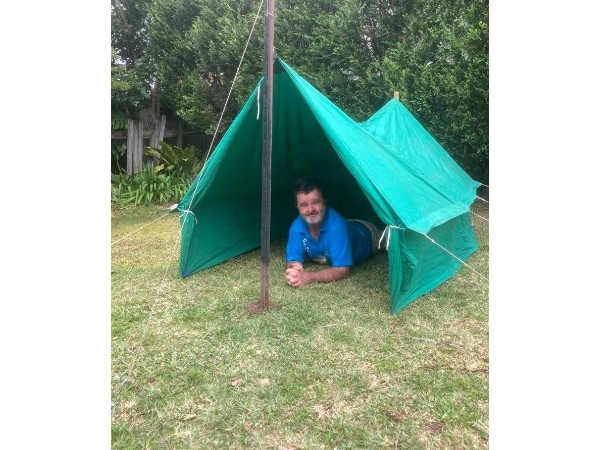 Decided to break out the old tent and be a bit retro. No rain forecast so no need to dig a trench. Hopefully, a good nights sleep ahead.
It's good to have friends.............................
So, here we are at almost the halfway point of our adventure. The wind was up last night and rain's on the way but the support of a good team is essential. Here's my little buddy that keeps me company in the tent and reassures me in the dark. Thanks Ted for all you support !!
Breakfast loooks scrumptious !
Delighted to have breakfast delivered to the tent this morning. Using Great Aunt Hilda's Royal Doulton dinner set, this is what glamping is all about. Thanks
Donna Craig
and Rodney.
Ex Seaforth Rovers join in,,,,,,,,,,,,
I'm sleeping well thru the rain and wind. A big shout out to Ex Seaforth Rovers - Trevor W, Chris S, Peter C, Martin R, Cliff and Tracey P who joined me camping out. It's great to feel their love and support on my quest for 30 nights ! Pictures is Martin's swag in his backyard...... 
Some late night reading in the tent
It's 3 nights so far and all good in the tent......... the birds talking to each other are a bit of an issue first thing in the morning.... I've got a good book to keep me company...... a fellow Scout tells me of an East Coast low coming my way - so I hope the title of the book has nothing to do with my tent........
I'm ready to go..........
The tent's up - I spent the day hoping the rain would stay away and so far, all good. A cool 7 degrees predicted but I'm prepared. A highlight of my day was a video message with a song from Isla, Jude and Megs. Hopefully, my snoring keeps the bandicoots at bay. 
Thank you to my Sponsors Tom Miles Stephen Pollitt The Greenows Chris O'neill Boycey Andrew Catto David Burke Mark O'connor Leo Abbruzzo Jim Baldwin Michael Fridolfsson Gary And Jackie Giles Toby Atkinson Jules Karen Callaghan Julie Neill Leon Brilman Neil Davison Scott Douglas James Gibbins Anonymous Kerrie & Anthony Craig Harry Robert Da Silva Adrienne Miles Tick Donnell Peter Davis A Davidson Donna Craig The Newsons Adrian Bull Michael Anthony Sestanovich Graeme Lee Colin Parker Scott Greuter Mary Jon Phillips
Tan And Hammo Chris & Julie Carol La Torraca Dean & Karen Jeff Keating Nadine Phipps Colin King Caleb Leary Janice Helen Oberg Liss Sinclair Ashley Eichmann Andrew Thwaites Emma Reid Family Blankenstein
Thorne Family Sandra Walker Lesley Withey Denise Ward Anonymous The Cowie Family Justine Sophie Pollitt Karen Menzies Ellen Miller Anonymous Martin Roberts Linda Batchelor Carmel Howard Pat Williams Peter Watson Anonymous Kim Riordan Katherine Roberts David Oneill Anna Gallo Matt Brownlie Kathy Russell Belinda Wilson Claudia Nelly Mcgrath Dominic Catherin Katrina Di & Max Turnbull Deborah Dickson-smith Family Petring Phillip Donald Mal Fisher David Buchanan Belinda Tuckey Barbara Pattinson Sue Veldre
Schoolshoesbob Ian Donald Terry Gatward Kon Kerry Griifiths Pamela Nicholson Tim Seeney Jason Ree Kiri Backhouse Leone O''grady Steve And Trish Byrne Greg Halpin Wayne Pashley Catherine Wiltshire Lyndall Anonymous Livio Kriletic Ed Sawkins Tony White David O'bryen Pete Mcgee Siobhan Whelan Jackson &ben Lehmann John Sestanovich Anonymous Sue And Leigh Osborne Kellers At Terrey Hills Cindy Ross Craig Jay Anonymous Deb Mason Louise Roberts Anonymous Sally Whearty Col Stocks
Margie Barstow Peter Juchau Jo Tysoe Karen Bartlett Oliver M Bronwyn Pullinger Debbie Johnson Tracey Ward Natalie Watson Tracey Bennett Trevor Watson
Amy Budden Anonymous Catherine Taylor John Drew Jonathan Wood Julie Sutherland Robert Perillo Tyler Birch Jon Wood Ricki Shires Ben Zalai Zoe Pollitt Marilinda Winter Mairi Baker Janine Weiss Pia Anderson Caroline Psaltis Pip Birkett Leah Fisher - Dsl - Kuringgai Scouts Matthew Davis Paula Pamela Martin Sean Castleman Pamela Whyman Investments P/l Nicole Jackson Kate Thomas Lewis Russell